Malai Kofta
Malai Kofta is a restaurant style Indian curry in which fried balls are dunked in creamy curry. This is a foolproof melt in mouth curry recipe
Malai Kofta with step-by-step photo and video recipe.
This rich, creamy and luscious kofta curry makes for a delicious lunch or dinner. Malai Kofta is a restaurant style Indian curry in which fried balls are dunked in curry.
It is called malai kofta for its melt in mouth malai (soft and silky) kind of texture.
Koftas can be prepared using different vegetables or meat. Being a vegetarian, we make veg kofta curry using lauki, cabbage, raw banana and mostly paneer and potatoes.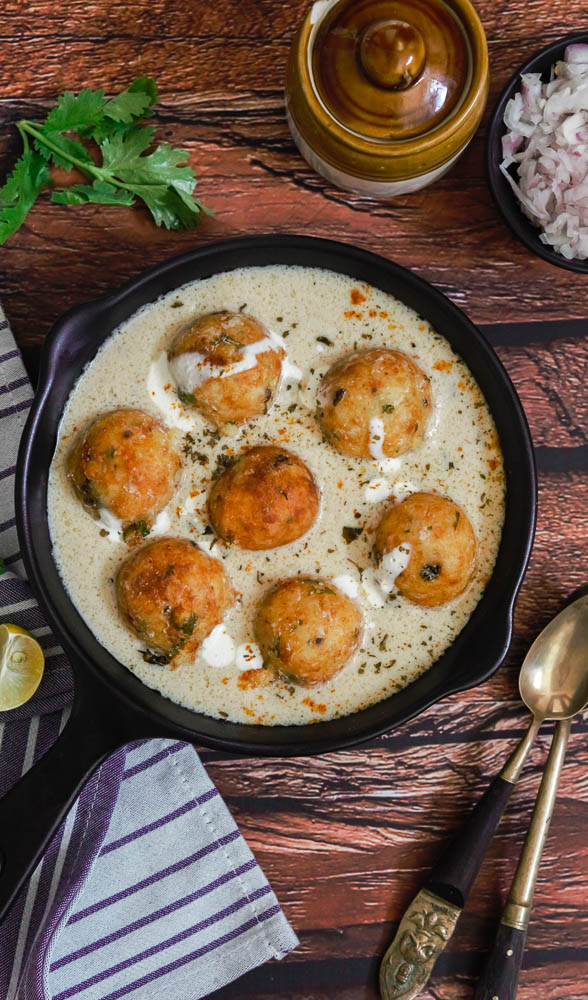 Malai Kofta is prepared by making boiled potato and paneer balls along with herbs and spices, deep fried and dunked in creamy gravy. These koftas are crisp from outside and melt in mouth from inside.
The recipe might look a bit intimidating but it is not as complicated as it seems. If you follow all the instructions to the T, it can't get wrong.
This foolproof recipe of Malai Kofta in white gravy ,makes for a great option for a get together or a party at home.
This Recipe of Malai Kofta is –
1. Rich & Creamy
2. Restaurant Style
3. Melt in mouth
4. A bit on sweeter side
5. Can be prepared using pantry ingredients
More Sabji Recipes from my kitchen –
Video Recipe –
How to prepare for Malai Kofta –
For gravy, roughly chop onion and keep aside cashews, whole spices and few other ingredients as suggested.
For the koftas, boil and grate the potatoes and grate paneer. Keep ready the other suggested ingredients.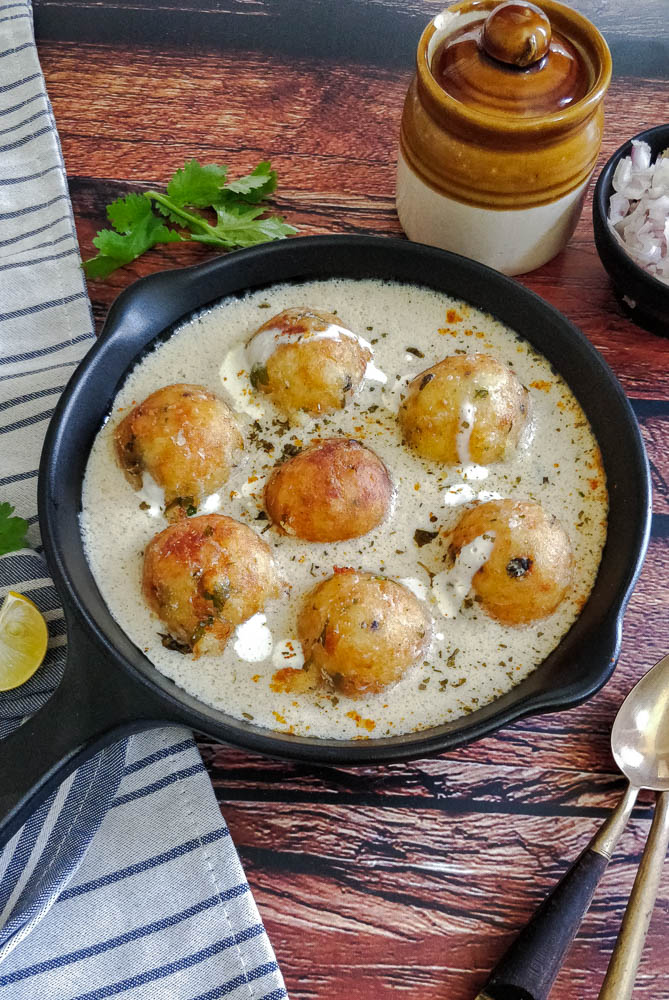 How to make Restaurant Style Malai Kofta at home –
For the gravy, put together onion, cashews, ginger, garlic, green chilli, whole spices, salt and water in pan.
Cover and cook for 15-20 mins. Cool it down and make fine puree. Strain the puree for creamy and smooth texture.
Heat oil and butter in the same pan. Add in the puree and milk +water. Give everything a nice mix. Cover and boil, let it simmer.
Meanwhile, for the koftas, in a large bowl, mix together grated potato, paneer, salt, black pepper powder and coriander leaves.
Wet your palms and make equal sized balls for the koftas.
Coat the balls with cornflour, remove excess cornflour if any. Place all the balls in a plate and freeze for about 30 mins.
Deep fry the balls on a high flame till golden brown.
Add in the fresh cream, garam masala and kasuri methi to the gravy. Mix well and let it boil.
Transfer the gravy to a serving bowl. Add koftas and its ready to be served.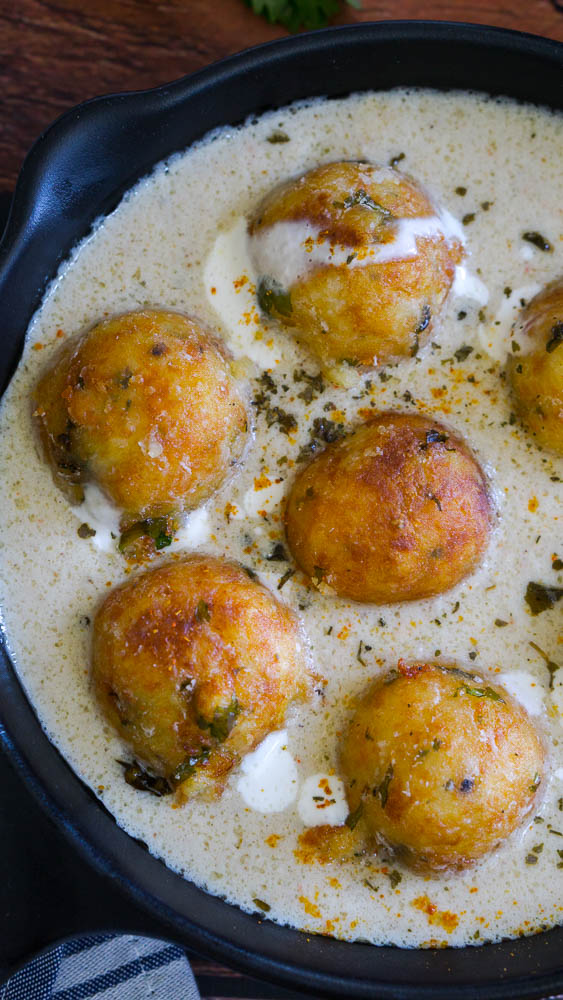 Tips to make perfect Malai Kofta –
1. Do not overboil the potatoes. It should be firm.
2. Use fresh paneer and make sure it doesn't have water content.
3. If koftas are not firm while binding, add a little bit of flour (maida) or cornflour to the mixture. Do not add a lot.
4. Make sure to freeze the koftas before frying. This will ensure that it doesn't break while frying.
5. Deep fry koftas on a high flame in a hot oil.
6. The gravy thickens with time, so keep the consistency accordingly.
7. Never add koftas to the bubbling gravy in kadai else koftas might lose the shape.
8. Always transfer the gravy to a serving plate and then add the koftas.
9. Add koftas to the gravy right before serving.
10. Strain the puree to ensure smooth, silky and creamy texture.
Step by Step Recipe of Malai Kofta Recipe –
For Koftas –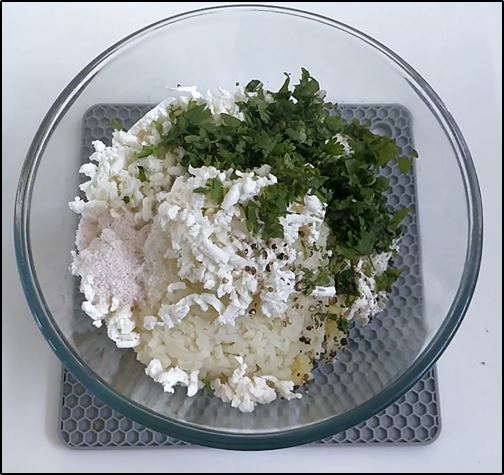 1. In a bowl, add boiled and grated potatoes, grated paneer, salt, pepper and coriander leaves.
2. Give everything a nice mix.
3. Wet you palms, make equal sized koftas balls. Make sure the balls are firm.
4. Coat all the koftas with cornflour.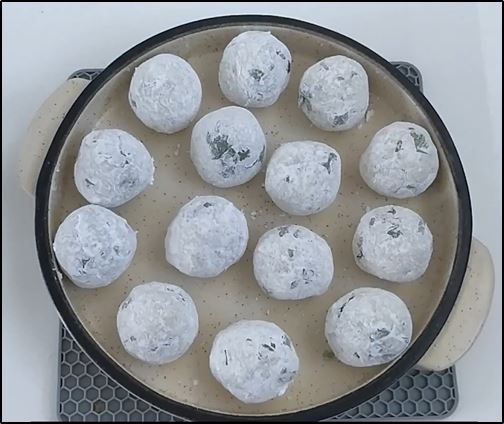 5. Place all the balls in a plate and let it freeze for about 30min. Do not miss this step.
6. Once rested and firm, deep fry the balls in hot oil on a high flame.
7. Strain excess oil on a kitchen towel.
Make Gravy –
8. Make gravy while koftas are resting in the freezer.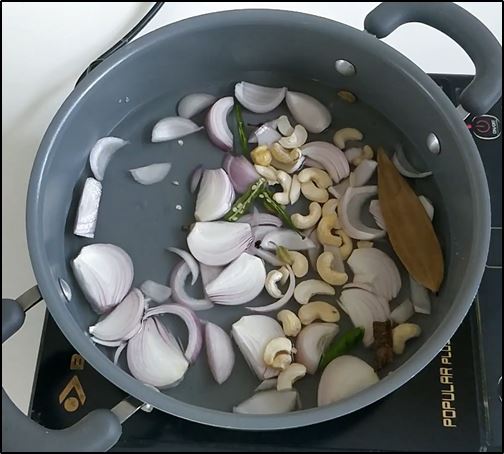 9. In a pan add roughly chopped onions, cashews, ginger, garlic, green chilli, bay leaf, black pepper, cinnamon, cloves, cardamom, salt and water.
10. Cover and let it boil. Lower the flame and let it simmer for about 15 – 20 mins.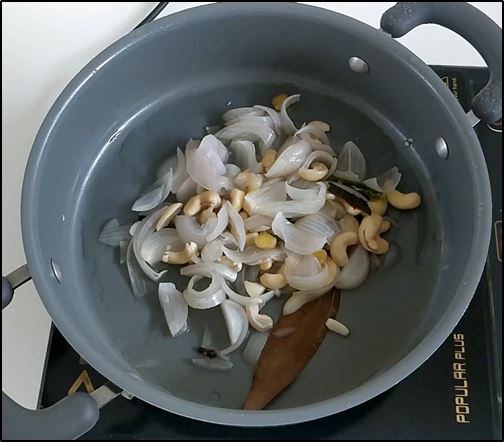 11. When water is evaporated everything is softened, set aside and let it cool.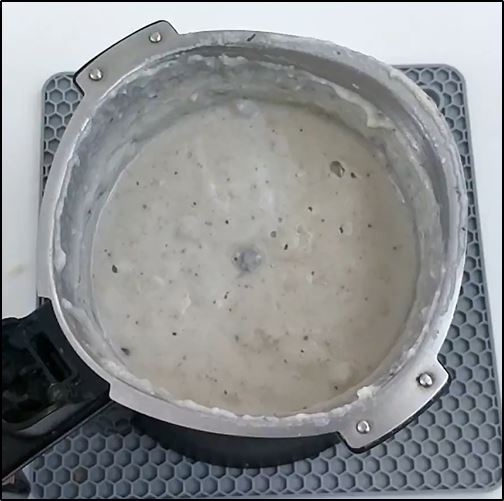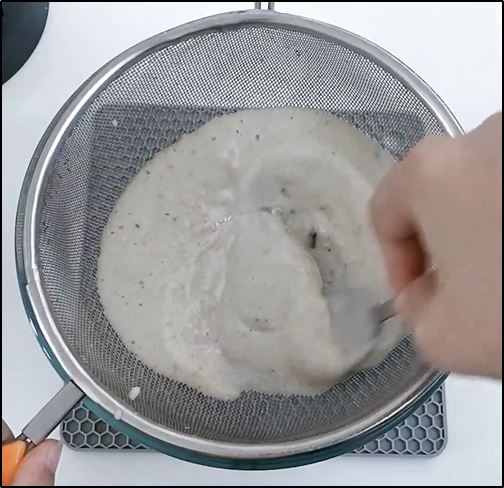 12. Make fine puree and strain to get smooth and silky texture.
13. In the same pan heat butter and oil together.
14. Add in the strained puree, milk and water.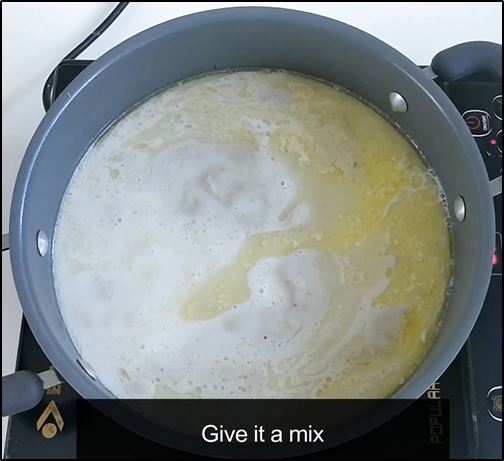 15. Give everything a nice mix.
16. Cover and let it boil.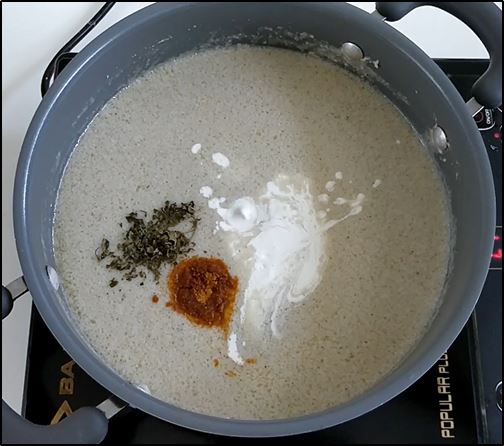 17. Next add kasuri methi powder, garam masala powder and fresh cream.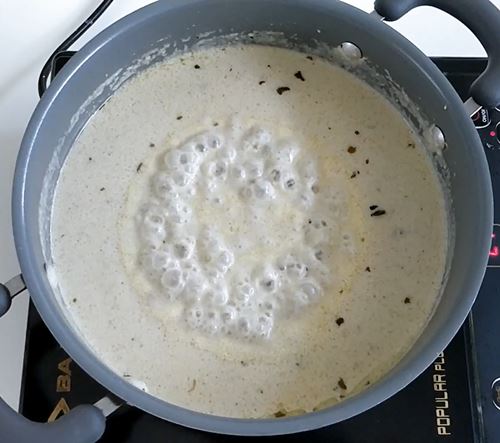 18. Allow it to boil and simmer for 5 mins.
Assemble –
19. Transfer the gravy to a serving bowl.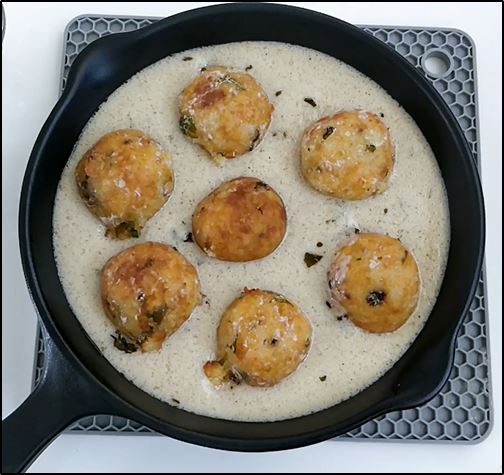 20. Add the koftas right before serving.
21. Serve hot with naan or butter tandoori roti.
How to serve Paneer Kofta –
Butter garlic naan and malai kofta makes for a delicious meal.
However, if you are serving guests serve Cajun Potatoes, Dal Makhani, Roasted Pumpkin & Chickpea Salad, masala papad, bhindi do pyaza along with malai kofta to make a complete meal.
If you try this recipe, please do let me know in the comment section. I would be happy to receive your feedback on my Social Media channels – Instagram, Facebook, Twitter
You can also pin this recipe on Pinterest for later referral.
Please do Subscribe to my Youtube Channel for updates on video recipes.