Hyderabadi Veg Dum Biryani Recipe
Easy step by step Veg Biryani recipe. This Veg Dum Biryani is layered with vegetables, rice and birista. Step by Step recipe with video recipe.
This recipe of Veg Dum Biryani is very close to my heart. Everyone at my home is a rice person. Hence the first-ever, complicated dish that I prepared was Dum Biryani. It turned out to be so delicious that everyone loved it and since then whenever I visit my home, I prepare Veg Dum Biryani for everyone.
Most of the time I use homemade freshly grounded Biryani masala but this time I have used store-bought masala for the easier version of the recipe. I will share the recipe of home grounded biryani masala as well soon.
While cooking, the aroma of biryani makes everyone hungry so much that everyone gets impatient to dig in and hence it gets difficult to capture good pictures.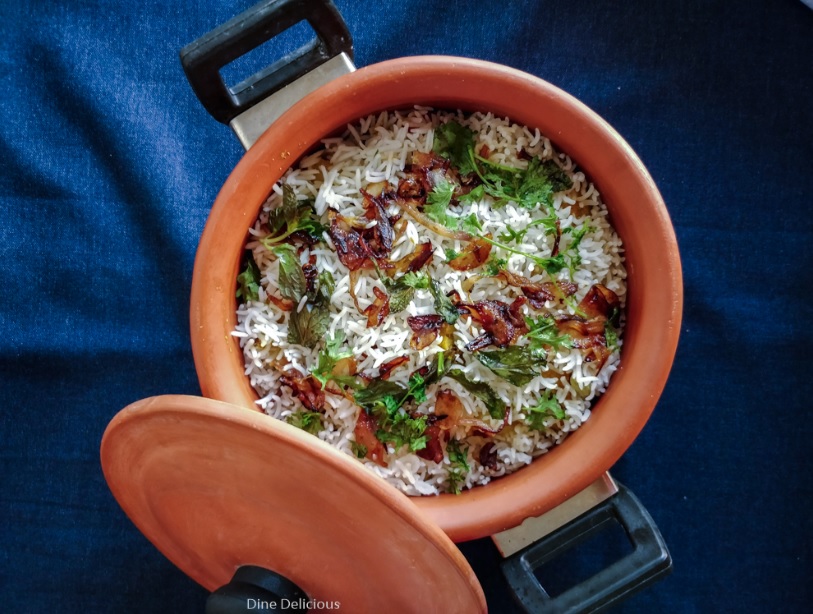 My husband is not a rice person, but he too demands this biryani ever since he has tasted it. Although it took me some time to convince him to let me prepare for him, once done, all it needed was one first bite for him to become a fan of this biryani.
This makes for a great lunch and dinner recipe. Biryani is mostly prepared for Iftar. We make this Veg Biryani on special occasions as well like Holi, Diwali and other festivals.
It makes for a delicious festive meal. The addition of biryani in party menu plans is a must.
Video Recipe -
It seems quite a tedious task to make biryani, actually, it's not as difficult as it looks. All the efforts are worthwhile when you get the first aroma in your kitchen and when it feeds your soul to satisfaction. I am sure once you start preparing biryani at home you will never ever prefer to order in a restaurant again. Homemade biryani is so light, aromatic and flavorful.
History of Biryani –
Biryani is said to be Persian dish brought to India by Mughals. Now very popular in India, every region has a different way of preparing it. Hyderabadi Veg Dum Biryani is cooked with separate cooking of vegetables and basmati rice and then layered and cooked on dum.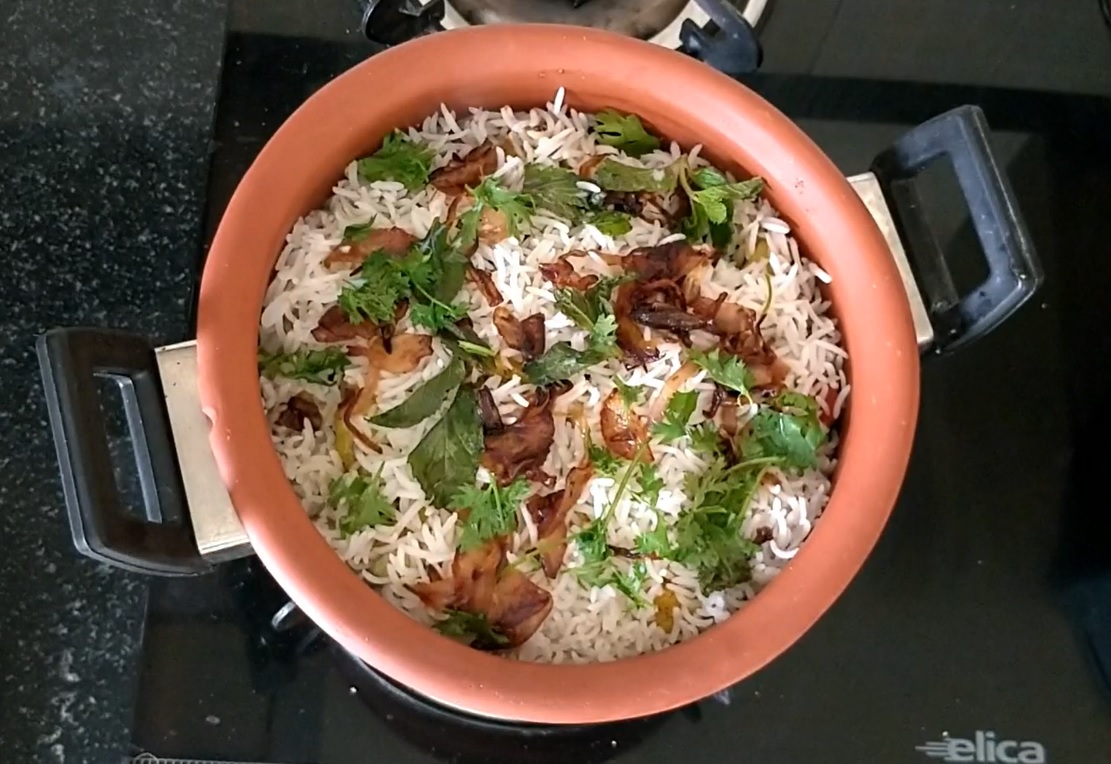 How to Prepare for biryani –
For making biryani soaking rice beforehand (half an hour) is very necessary. Wash and cut vegetables and keep other ingredients ready. Caramelized/fried onion is a very important ingredient in making biryani which gives biryani a distinctly sweet flavour. Its good to have caramelized or fried onions ready.
How to make Veg Dum Biryani at home –
Cook basmati rice till 3/4th done and keep aside. Fry or caramelize onion and keep aside.
Heat ghee and cook vegetables till half done. Add spices, curd and water. Mix well and give it a boil. Set aside.
Layer the vegetables and rice in a heavy bottom pan along with fried onion, fresh mint, coriander leaves and ghee. Finish with milk. Cover and cook on a low flame for 25 – 30 mins.
Serve hot with raita in layers. Do not mix biryani once cooked. It is supposed to be served in layers.
How to cook rice for biryani perfectly –
Wash rice thoroughly, 4-5 times or until clear water comes out. This will not only help in cleaning the rice but remove the starch to some level. It helps in getting each grain separate rice after cooking.
Soak basmati rice for about 10 - 15 mins. Strain excess water.
Boil 5 times of water in a big container. The rice will double in size so make sure the container has enough capacity to hold. Add whole spices, salt and rice. Cook on a high flame till it cooks 75%.
Tip - Mix gently once in between. Do not stir too much, else the rice will break.
Strain excess water completely and set aside.
Other rice recipes you may like -
Schezwan Fried Rice
Methi Paneer Pulao
Vangi Bath/ Brinjal Rice
Gobi wale Chawal / Cauliflower Rice
How to Make Fried Onions or Birista for Biryani –
Cut one onion into thin slices. Heat oil (to deep fry) in kadai. In hot oil, add onion slices and deep fry till golden brown.
Tip – Cook on a low flame for first 5 mins or till soften. Turn the flame to high and cook till golden brown or crisp.
Strain excess oil and set aside.
To make crispy onions instantly without deep frying -
Heat 2 Tbsp of oil in a pan. Add sliced onions. Cook on a high flame till softens. Lower the flame and cook till crisp brown.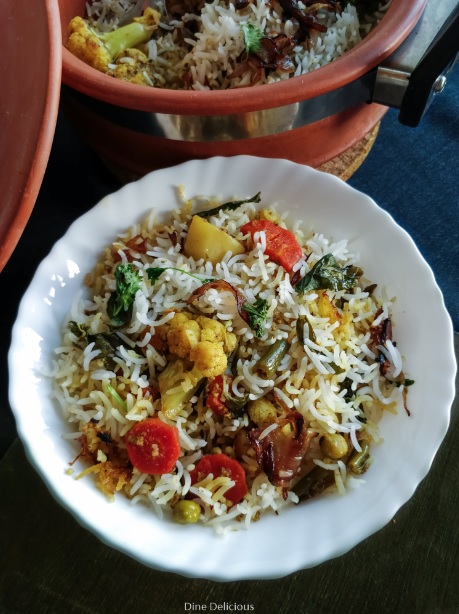 Things to keep in mind while making Veg Dum Biryani –
(Tips & Tricks to make perfect biryani)
1. Make sure the rice is not cooked to perfection. Cook till done 3/4th or 70%
2. Basmati rice goes best for this recipe. I prefer the Tibar Basmati.
3. You can prepare barista beforehand and store in an air-tight container for 3-4 days. Make sure to pack the fried onions only once cooled down
4. Dum cook in a heavy bottom pan on the lowest flame for 25 – 30 mins.
5. In case you don't have a heavy bottom pan. Heat heavy bottom iron tawa, place the pan over tawa and cook on the lowest flame for 30 mins.
6. Do not stir the rice too much, else it will break. Cook on a high flame.
7. Do not cook the vegetables completely. Cook till 70% done.
8. 1 Cup of rice yields 2 cups of boiled rice.
9. Water should be 5 times of unsoaked rice.
Step by Step Recipe to make Hyderabadi Veg Dum Biryani -
Cooking Rice –
1. Boil water in a container. Add salt, bay leaf, cloves and cardamom.
2. Add washed, soaked and strained rice.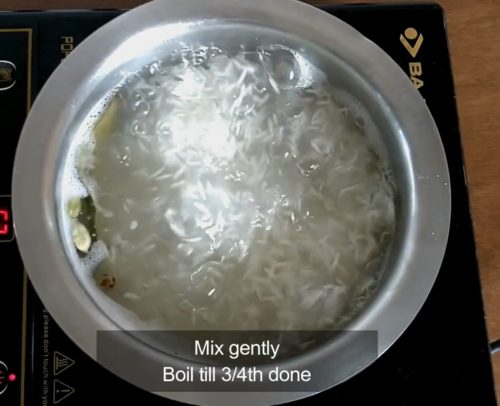 3. Boil on a high flame. Mix gently once in between.
4. Cook till it's done 3/4th.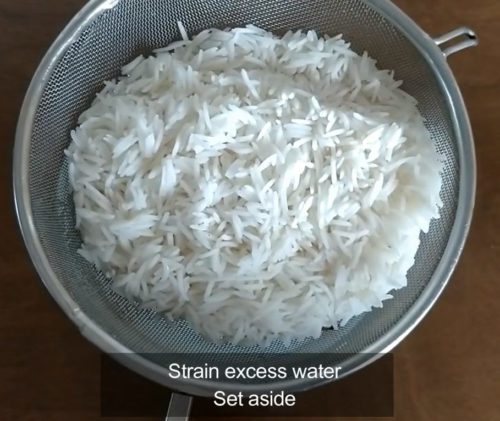 5. Strain excess water and set aside.
Frying Onions –
6. Heat oil in a pan.
7. Add sliced onions.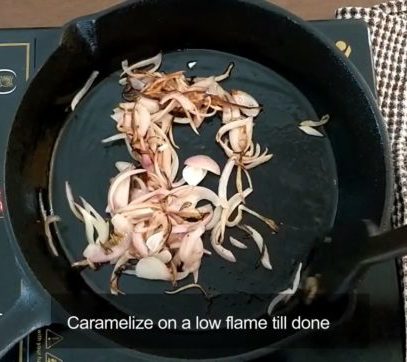 8. Cook on a high flame till it softens.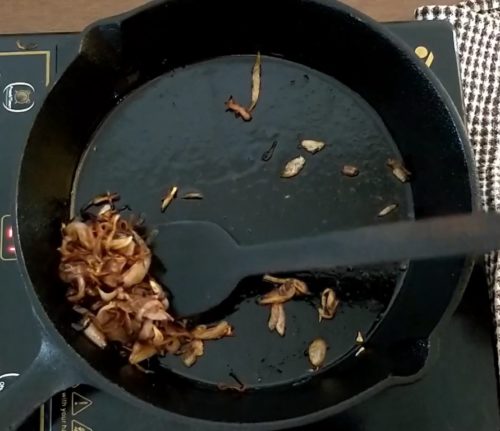 9. Lower the flame and cook till golden brown and crisp.
Vegetable Layer –
1. Heat ghee or oil. Add cumin seeds and let it splutter.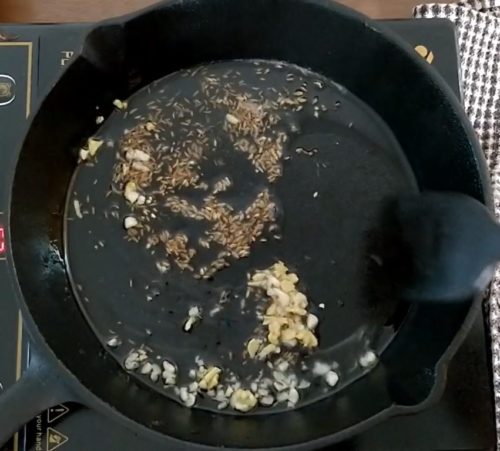 2. Next, add finely chopped ginger-garlic. Cook till raw smell goes off.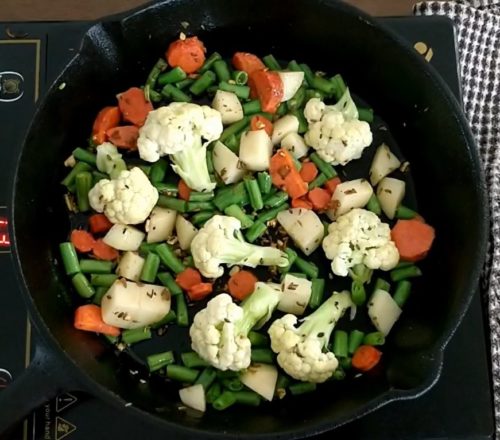 3. Also, add cauliflower, potato, carrots, beans and peas.
4. Mix well and cook for 2-3 mins.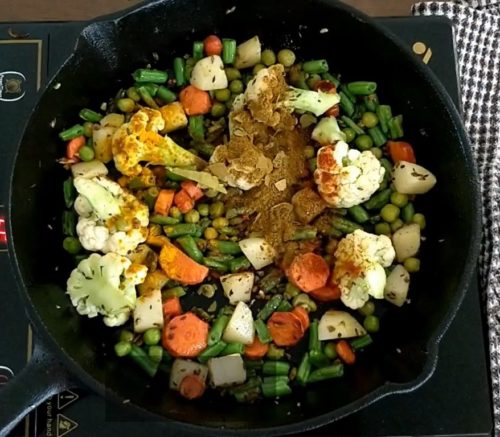 5. Next, add turmeric powder, red chilli powder, salt and biryani masala.
6. Mix everything well so that spices are well coated to the vegetables.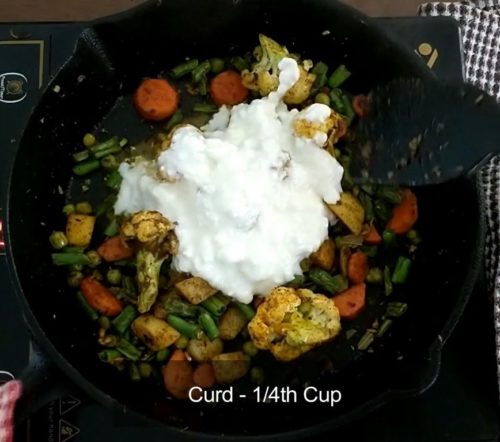 7. Lower the flame, add curd and mix well.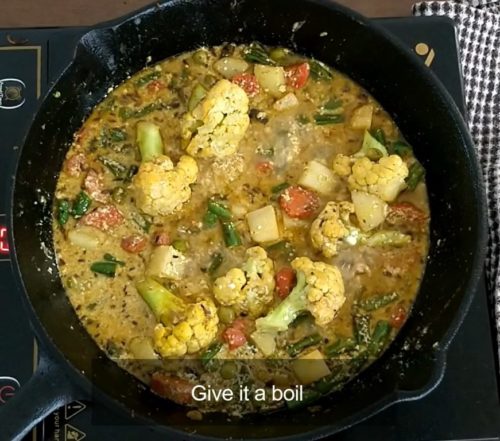 8. Add water and mix gently. Give it a boil.
9. Set aside.
Layering -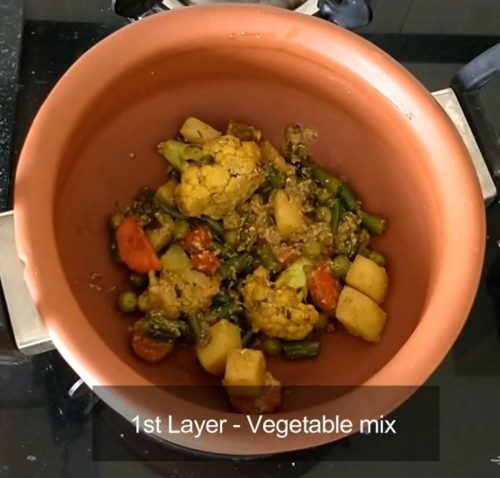 1. In a heavy bottom pan, add the first layer of vegetables.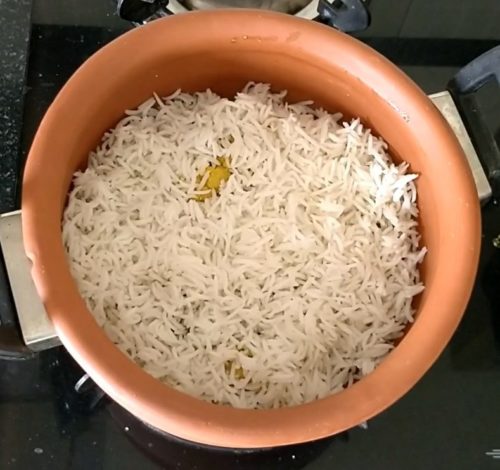 2. Next, add the layer of rice on the top of it.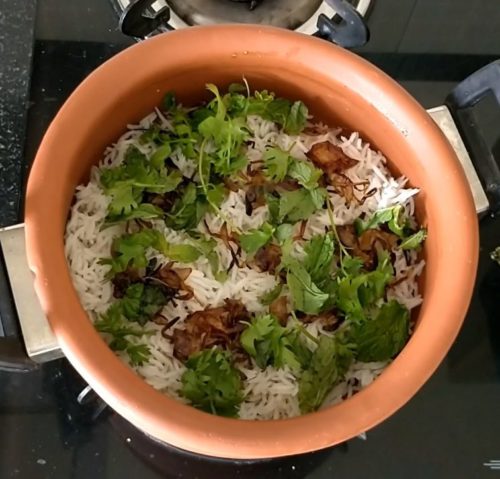 3. Top it with fried onions, mint and coriander leaves.
4. Generously top it with ghee.
5. Repeat the layers.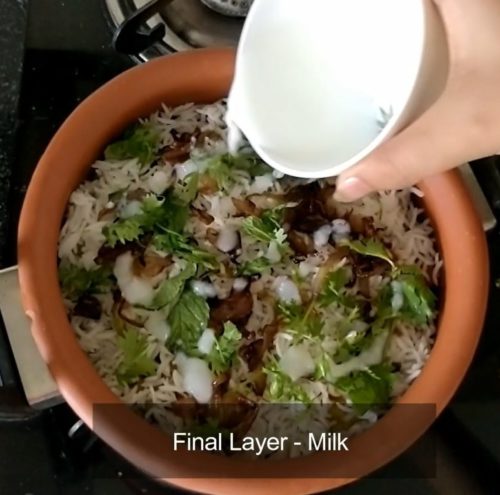 6. Add the final layer of milk.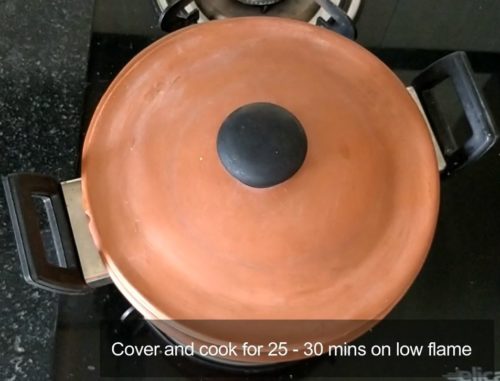 7. Cover and cook on a low flame for 25 – 30 mins. Do not open/disturb the pot during that time.
8. Serve hot with raita. Do not mix biryani after cooking. Mix gently right before serving.
Note -
1st Layer - Vegetable mix
2nd Layer - Rice
3rd Layer - Fried Onions / Birista
4th Layer - Mint & Coriander leaves
5th Layer - Ghee
Repeat layers
Final Layer - Milk
Serve hot with Boondi Raita, Carrot Raita with Tadka
Pair it with a starter of your choice -
If you try this recipe please let me know your feedback in the comment section below. Also do share with us the pictures on Social Media Channels – Facebook, Instagram, Twitter
You can also pin this recipe on Pinterest for future referral.
Please do Subscribe to my Youtube Channel for detailed video recipes.