Paneer Tikka
Paneer Tikka is a Veg tandoori starter recipe which is spicy, tangy and melt in mouth. A foolproof recipe with all the tips and tricks.
Paneer Tikka with step-by-step photo and video recipe.
One of the most favorite and ordered starter recipes in restaurants is Paneer Tikka.
The soft and melt in mouth paneer cubes are marinated with thick yogurt along with spices, roasted gram flour and mustard oil, cooked in tandoor to make juicy, smoky and delicious paneer tikka.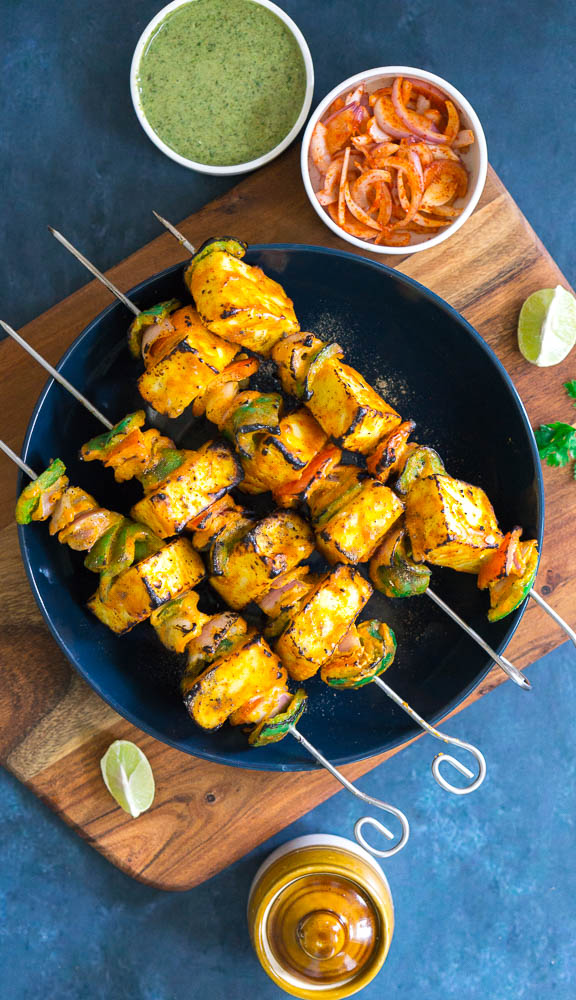 Tandoor is clay oven which is traditionally used in India for ages. This cooking technique is most ancient and has been practiced even now in most of the North Indian states. Its gives best smoky flavour to tikkas, flat breads and many Indian tandoori starters.
However, since we do not have tandoor at home usually, this recipe includes no tandoor and no oven cooking technique to give exact same flavour and smokiness.
This post includes all the tips and tricks to make best ever Paneer Tikka Recipe. This recipe of paneer tikka makes restaurant style starter at home, effortlessly.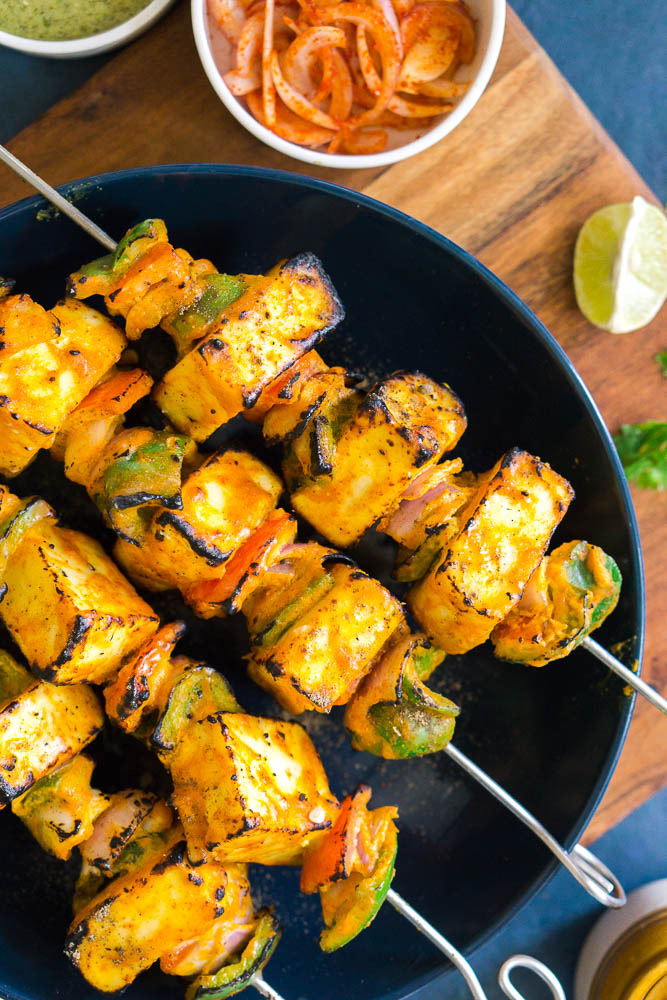 This recipe of Paneer Tikka is –
1. Foolproof
2. Makes soft and melt in mouth tikka
3. Has smoky flavour
4. Very easy to make
5. Restaurant Style
6. Vegetarian Starter
Video Recipe –
More Snack Recipes from my Kitchen –
How to prepare for Paneer Tikka Recipe –
Cut paneer into cubes. If it is hard, dip in luke warm water for sometime (10 min.) to make them softer.
Dice onion, capsicum and tomatoes. Keep the suggested ingredients ready.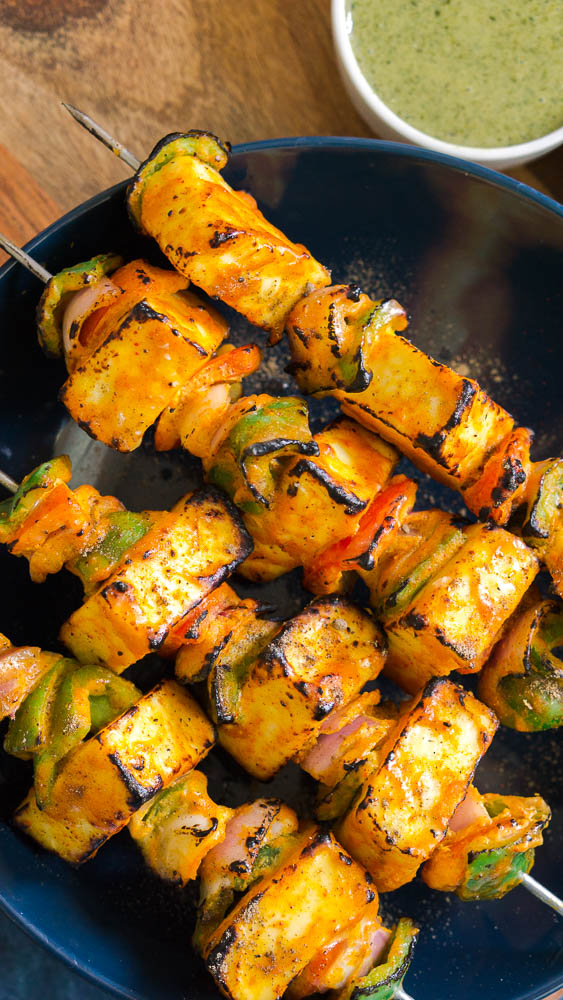 How to make Paneer Tikka at home –
In a large mixing bowl add yogurt, roasted besan, suggested spices, smoked mustard oil, ginger garlic paste and lime juice.
Give everything a good mix.
Marinate paneer, onion, tomatoes and capsicum. Let it marinate for an hour. Cook on an open flame to get the char effect.
You may also like –

Sirke Wale Pyaz (Pickled Onion)
Things to remember while making Paneer Tikka –
1. Make sure the yogurt is thick or use hung curd. If it has water content make sure to hang it for some time to release it as much as possible.
2. Arrange everything on skewer and place it over the bowl so that excess marination is dripped and it is dried before cooking.
3. Use deseeded tomatoes and capsicum.
4. Cut everything in equal size.
5. If using wooden skewers make sure to dip it in water overnight so that they do not burn while cooking paneer tikka.
6. The vegetables and paneer should be tightly arranged so that they do not fall off skewers while cooking.
Step by Step Method to make Paneer Tikka at Home –
Marination –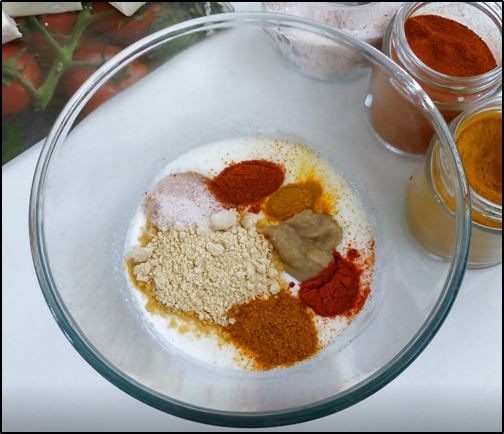 1. In a large mixing bowl, add curd, roasted besan, turmeric powder, red chilli powder, salt, kashmiri red chilli powder, garam masala powder, ginger garlic paste, smoked mustard oil and lime juice.
2. Give everything a nice mix.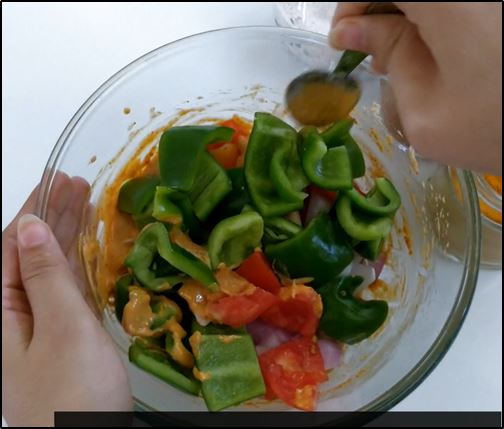 3. To the marination add diced onion, capsicum and tomatoes. Mix everything well.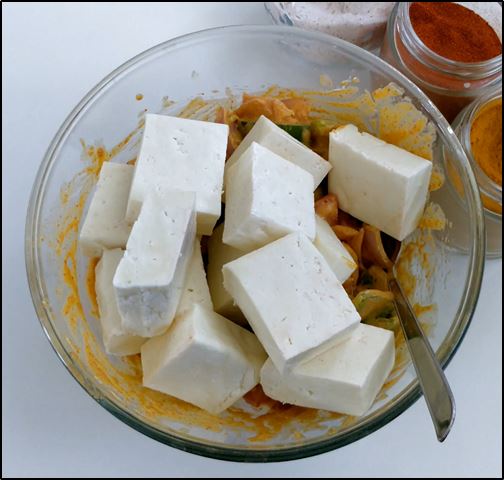 4. To it add diced paneer and toss gently, make sure paneer doesn't tear off.

Arrange on Skewers –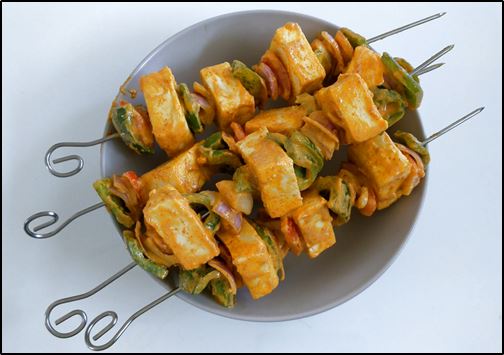 5. Arrange capsicum, tomato, onion, paneer and repeat the same sequence, finishing with capsicum.
6. Make sure to arrange tightly so that it doesn't fall off the skewers while cooking.
7. Place the skewers over a bowl, it shouldn't tough the surface.
8. The excess marination or water content will drip in the bowl, making it dry so that marination doesn't drip while cooking.
9. Let it rest (in refrigerator) for min of 30 mins. or even overnight.
Making Paneer Tikka on Stove Top –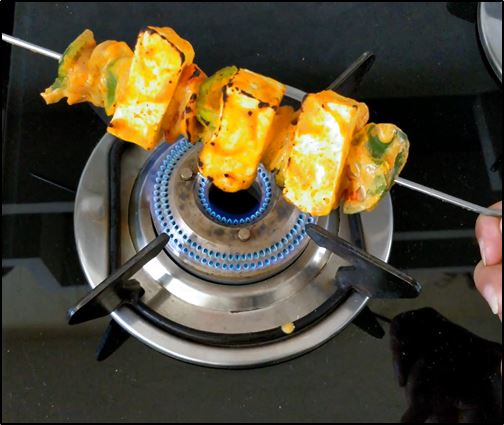 10. After it is well rested, place the skewers on an open flame, keep rotating and cooking on all sides till its charred and done well.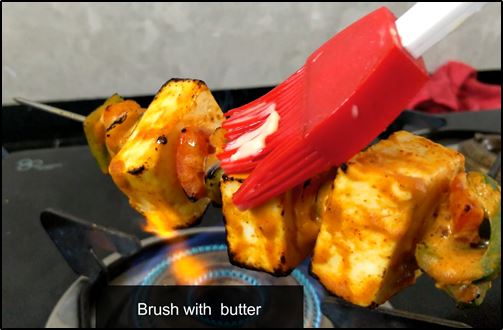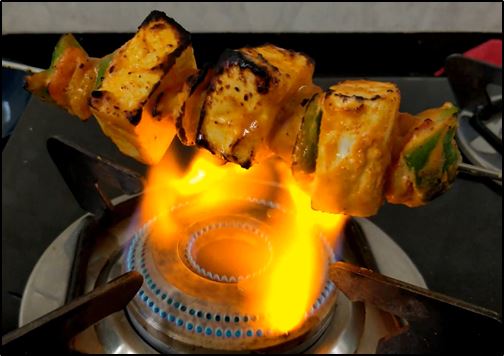 11. Brush them with butter and cook till charred on all sides.
12. Do not burn the tikkas.
Making Paneer Tikka in a pan –
13. In case you do not have skewers, heat oil in a cast iron skillet, place the veggies and paneer.
14. Cook on a high flame on both sides and cook till charred and done.
15. Finish it off with some lime juice and chaat masala. Serve hot.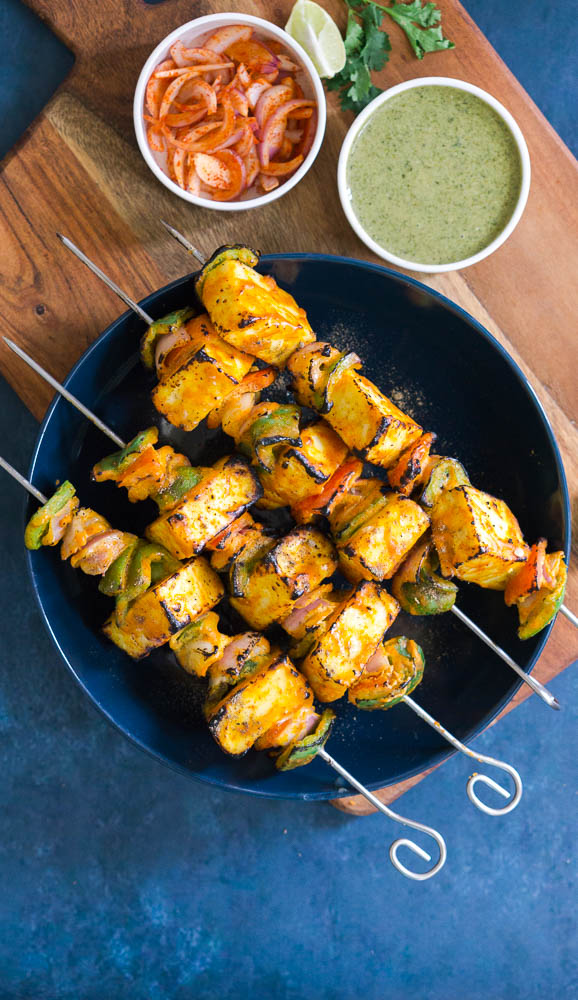 How to serve Paneer Tikka –
Paneer Tikka is an Indian vegetarian starter/appetizer recipe. Serve it with mint coriander chutney.
To make a complete meal serve it with dal, rice, tandoori roti, kale chane ke kebab, raita, salad.
If you try this recipe, please do let me know in the comment section. I would be happy to receive your feedback on my Social Media channels – Instagram, Facebook, Twitter
You can also pin this recipe on Pinterest for later referral.
Please do Subscribe to my Youtube Channel for updates on video recipes.